SO I have been a life long Harley owners and currently own 3 Harleys. I always felt that Harley parts were a bit expensive but not anything insane.
Then I look at the BMW accessory catalogue and see floor boards that cost $1200....nuts. A Harley equivalent floorboard might be around $350 max.
Then I see this listing on ebay.... and I could not believe it. Apparently a dealer might have ordered a complete exhaust for R18 and is noe looking to dump it on ebay.
The comedy is that the part numbers and prices are listed and the total comes up to $10,000USD........just for the exhaust !!
Wonder how much an engine would cost !!
an exhaust system on a $20,000 bike is $10,000 to replace ??? INSANE in the MEMBRAINE......INSANE in the BRAIN !!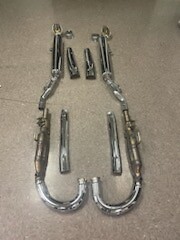 Find many great new & used options and get the best deals for BMW R18 OEM FULL EXHAUST SYSTEM NEW NEVER INSTALLED at the best online prices at eBay! Free shipping for many products!
​
12 pcs total:
Exhaust Manifold, Left: 18519444785 $2234.33
Exhaust Manifold, Right: 18519444786 $2234.33
Covering, Left: 18519444777 $236.59
Covering, Right: 18519444778 $236.59
Clamp x 2: 18519829595 $67.66
Muffler, Left: 18519467673 $1630.00
Muffler, Right: 18519467674 $1630.00
Trim for End Muffler, Left: 18519444781 $301.10
Trim for End Muffler, Right: 18519444782 $301.10
Support, End Muffler: 18518413959 $508.11
Support, End Muffler: 18518413960 $508.11
Total System: $9887.92 Plus 7% tax $692.15 & Freight $200.60
FULL RETAIL PRICE $10,780.67