Well-known member
Elite Member
A few months ago I stumbled onto an amazing jacket from Japan made by an outfit called The Flat Head. Beautiful, beautiful hand-made horsehide black leather jacket. I paid about 15% of retail and have been smiling ever since. It's literally the nicest jacket I can conjure up in my minds-eye and then there it is! I'm gonna put that on, ahhhhhh. The point of this thread isn't to brag about my find, no, it's to stress that I hadn't even KNOWN about it prior to finding it online and then doing some research. There's others out there I'm sure.
So, R18 owners...we have folks here from around the globe: France, Thailand, California, South Africa, Poland, Pennsylvania, etc. What are you wearing? What niché leather boutique can you shine a light on and maybe inspire someone else to make an investment? Or if jackets is too narrow a topic, what gloves or pants or boots are you wearing? Any specific do's or don'ts?
Here's the jacket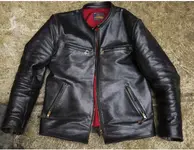 it smells so good. holy freakin' shit.