So ... Scott did already a fantastic job on all that .. but I figured I throw another one on top, the more the merrier
Today's fun activity ... Transmission oil change!
First off I have upgraded my setup a bit .. it now includes a wheel chock ... it helps a lot when doing this
because the filler plug is on the kick-stand side of the bike ... go figure !
It is located behind this fun little cover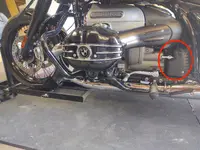 BMW seems bound and determined not to make things all that easy for us .. oh well
So , after the cover is off ... one screw and then you have to kinda fiddle it (technical term) upwards so it slides of that bracket
(btw. fun to get back on - insert sarcastic grin here - just don't force it .. it may be easier than you think!)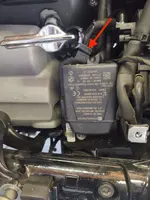 Then unscrew that item (one screw on the bottom) and wiggle it out of the way.
I used some masking tape to hold it out of the way .. sorry forgot to take a pic of that .. but
you get the idea.
Then you can see the filler plug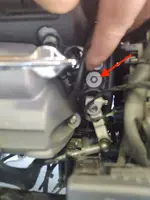 Got a bit blurry .. my camera didn't want to focus ...
So now I know where it will go in ... now where does it come out?
Right here .. underneath can't miss it .. it is a 19mm socket/bolt head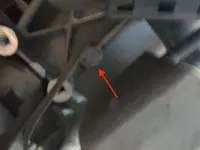 By the way there is a battery wire and a hose in the way of the filler plug .. I recommend
zip-ties to hold that out of the way while you work on it ... remove later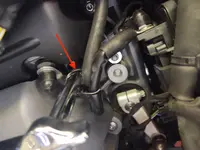 It is a 8mm hex wrench to get that out .. it should not be very tight ...
Mine came right out and it had (as expected) some metal on the magnet.
It was a dark grey almost graphite kinda feel ... no shiny bits of hard-face no chunks
so all good
And wiped right off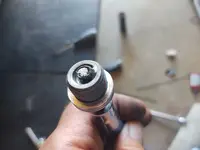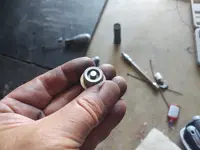 Put a nice clean pan underneath and pulled the drain plug as well.
I was surprised to see that it did not have a magnet on that one ... hmmm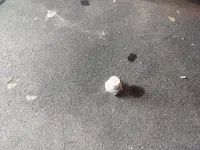 The oil that came out was a lot 'grimier' than I expected but ... she is going get fresh one anyway.
I will however shorten the interval between transmission oil changes .. until the oil comes out a bit nicer.
A couple liters of oil are an easy piece of mind .. IMO
Let her sit and drain for a bit ... oh and I did all of that with the engine/gearbox up to operating temperature,
I guess I should have mentioned that earlier .. but I do everything oil related at temperature
...
While I have me a beer and a smoke she drained out nicely and I put the cleaned drain plug back in.
Here is a IMO ... I used to use red shop rags ... I have completely switched to these blue disposable,
thick paper towels ... for me .. less risk of contamination with something else I wiped off before.
Anyway drain plug is back in ( @ 15 foot pounds - revised by suggestion of 'Cornel', if it seeps ... give it just a little more ... all it has to do is seal ) .. oh and I am a bit anal about thread-locker .. I even use it on the drain plug ...
just the purple 'Low Strength' version.
And now I ran out of pics to attach ... part 2 coming
Last edited: